Atlas Black, Mental Health Awareness, and Context
Hey all,
Levi here.
This post is going to be some mix of personal and promotional.
As many of you know, I've got a few dates coming up – beginning a week from today – in Michigan and Ohio. These are the first events that I've done all year, save one out-of-country show in January. I want to tell you a bit about what to expect.
These three shows are going to be pretty laid back, so you can come expecting a mellow, interactive evening with the folks performing - myself included.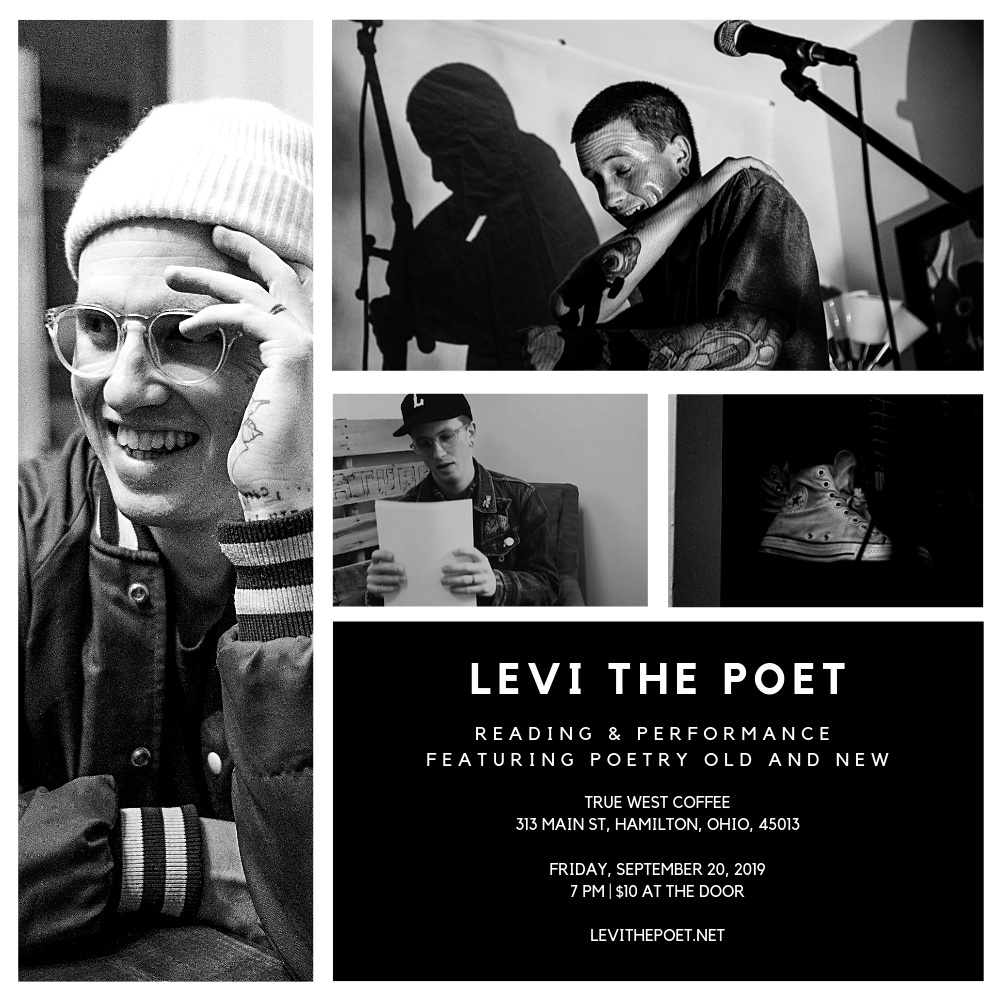 *Tickets for each of the above events will be available at the door
As for my part, I am going to be sharing some poetry that you'll recognize, and I'll also be doing a decent amount of reading. Some of it will be poetry. Some of it will not. To be honest, I never thought I'd hear myself saying those words, as poetry / prose readings never much appealed to me when I was getting started with this project (perhaps my incessant screaming was a sort of rebellion against exactly that).
However, an event near the end of last year, at Hartwick College in Upstate, New York, changed my mind. We met in a small venue - Bluefields Cafe - and I don't know what else to call the evening but "magical." Perhaps, because it was fun for me to take a break from my normal, nonstop 45 minute performances and allow for some breathing room and back-and-forth with the folks holding space there with me.
At any rate, I hope to be able to recreate a little bit of that on Thursday in Wyandotte, Friday in Hamilton and Sunday in Toledo, and I would love it if you'd join me.
Now, let me tell you about Saturday, in Columbus, OH.
Atlas Black: The Imagination Fair will be an entirely unique and immersive artistic experience that myself and the rest of the folks who are making it happen would like to invite you into.

Here is a promo you can watch to get yourself acquainted with the vibe:
Here's the lineup for 2019's event:
Atticus

Tessa Violet

Vesperteen

The artwork of Noor Unnahar

Ashley Dun

Jesse Cale

Levi The Poet

Jesse Powers

Give Me Motion (Emcee)

Kate Faust

Mery Steel

The Amazing Giants
(and more…)
So here's the deal: when we say participate, we mean it. You've got full permission to be your crazy, creative self and dress up, method act, whatever. Play a role as a Citizen of the world of Atlas Black. Be a character you create. One who is making this world a better place. It's a chance to a part of a story, interact with the muse who will float through the world, and show up in the short film that we'll be building together throughout the day.
I for one, coming from the land of the Almighty Meow Wolf, am excited for the opportunity to participate along with you.
All of that said, here is an important update for those of you who have been following along, and those of you who are just now hearing about this event for the first time:
Atlas Black is now free.
You can use the code "ATLASINVITEDME" upon checkout, here, to take advantage of your no-charge entry.
I received an email from one of the event organizers this morning letting me know that the cost of the entire event had been underwritten in order to make it more accessible to people who wanted to come.
That said, IF you do still want to PURCHASE a ticket to Atlas Black, all proceeds will now be considered donations toward Nationwide Children's On Our Sleeves, which is a children's behavioral and mental health initiative focused on raising money and awareness around mental health, depression and suicide.
Atlas Black's underlying message of mental wellness for the community's youth is a core driver of the festival.
Here's why:
50% of all lifetime mental illness start by age 14

Suicide is the second leading cause of death among persons aged 15 to 24 years, and the third among persons aged 10 to 14 years.

1 in 5 children has a significantly impairing mental disorder; less than half get the treatment they need.

15,000:1 – One child psychiatrist is available for every 15,000 youths under 18
"Basically, it's 9/11 happening every 18 months."
– John Ackerman, PhD, Center for Suicide Prevention & Research at Nationwide Children's Hospital
When I got the email, I couldn't help but tear up. If you've followed any of this week's happenings through my channels during the past few days, you know they've been a whirlwind. National Suicide Awareness Week is always important to me, but with the memories of my dad and the reality of my own struggles – let alone the many others whose names appear in my inbox on a daily basis – it's always heavy. And this year, on the official "prevention day," came the heartbreaking news that an acquaintance of mine, and mental health advocate, himself, took his own life.
I haven't had a ton of time to process all that the loss of Jarrid has stirred up in me, and I'm not going to try to public-process now, nor do I think it appropriate on a post primarily meant for work-related news. I only mention if for the sake of my personal context, and how grateful I am – particularly now, in proximity – for the work that Atlas Black is inviting us all into next weekend.
So – for those of you coming to Columbus – if you'd like to get in for free, the option is there. And if you'd like to purchase your ticket and support Nationwide Children's On Our Sleeves, we'd love that, too.
Either way, looking forward to seeing you there.
I hope that – whoever you are and whatever show you are or are not coming to – you know that, to the best of my ability and the degree to which I am able to offer it, there will always be a seat at my table for you.
I am honored to get to participate in your life, and I am so grateful for your presence on this earth. Let's remember to celebrate it together.
Levi